Carrie houdt ook van worst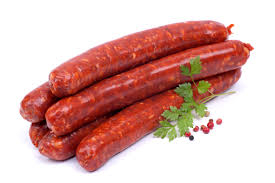 Rotterdamse Carrie houdt van worst. Vooral van merguez.
Dat zijn pittige worstjes die je het beste bij de Turkse of Marokkaanse slager kan kopen. Zo uit de hand of lekker op een broodje met sla en heel veel knoflooksaus. Van die kleffe derrie die dan samen met het vet uit de worstjes langs je kin druipt. Het geeft enorme vlekken op je kleding maar het is het waard.
Lees de rest van de column op de site van het AD. Daar vind je ook tips voor de beste merguez van Rotterdam. Zelf merguez leren maken? Volg een workshop van Meneer Wateetons, of koop Over Worst of de Worstbijbel (februari 2018).